AP Chess Chocolate JSK with Jabot in Chocolate/Mint(URGENT)
Moitie Silent Moon OP in black/white; white/black(URGENT!!!)
AP Milky Planet special set in lavender
JetJ Feeria size 2(URGENT!!!)
AP Petite Pattiserie JSK in brown
AP French Cafe JSK/OP in all colours but pink
AP Fantastic Dolly normall waist JSK in Lavender
AP Starry night Theather in Black/Blue OP/JSK
AATP Queens coach JSK 
AATP Masquerade Theather OP/JSK(Urgent in Red Jsk and in Blue/Black OP)
AATP Dance of the black cats JSK
AATP stained glass/BTSSB(seraphimus print) JSK/OP in Black
AATP Melty Mermaild princess JSK
AATP Time of roses JSK in light colours
AATP Midsummer's night dream JSK or skirt in all colours(URGENT!!!)
AP Sugary Carnival Jsk/OP/Special set in violet blue(with carousel)(URGENT)
- I accept PayPal only
- Prices are in EUR
- I ship from Moscow, Russia by 1st class.
- Priority goes to first user who drops their paypal and can pay first.
- PAYMENT PLANS ARE WELCOME! But I accept payment plans for maximum 1,5 month with 20% non refundable deposit. Also I can hold you an item, but with 20% non refundable deposit ONLY.
- Please complete your payment in 24 hours or i'll invoice the next person in line.
- I'm not responsible for damaged or lost packages.

- I accept trades too.
-COMBINE SHIPPING ARE WELCOME!

- No return or refund.
- My EGLFB



My proof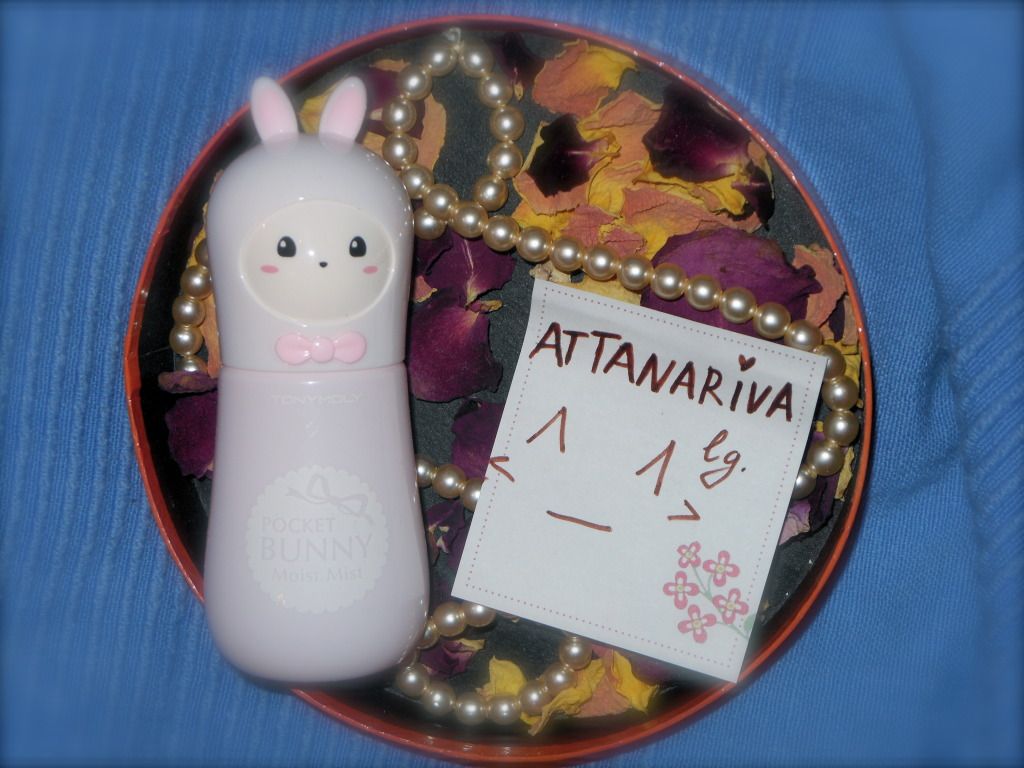 1.
Elodie Doll JSK in RED from Mary Magdalene. First release.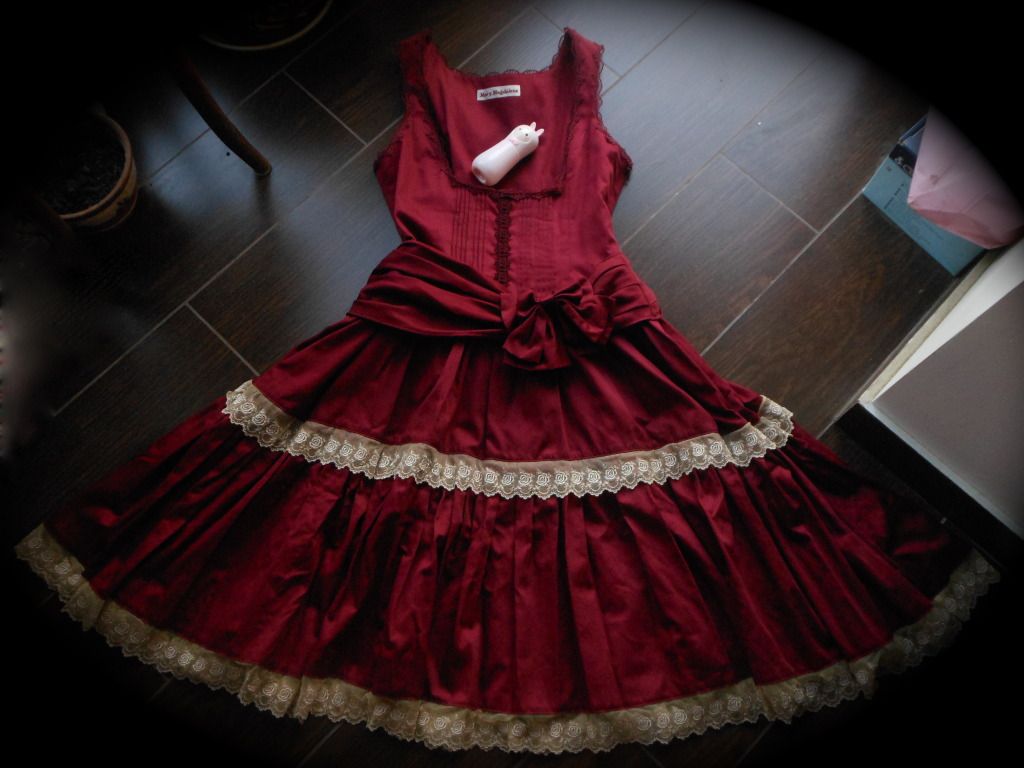 Coordination with ITEM 5.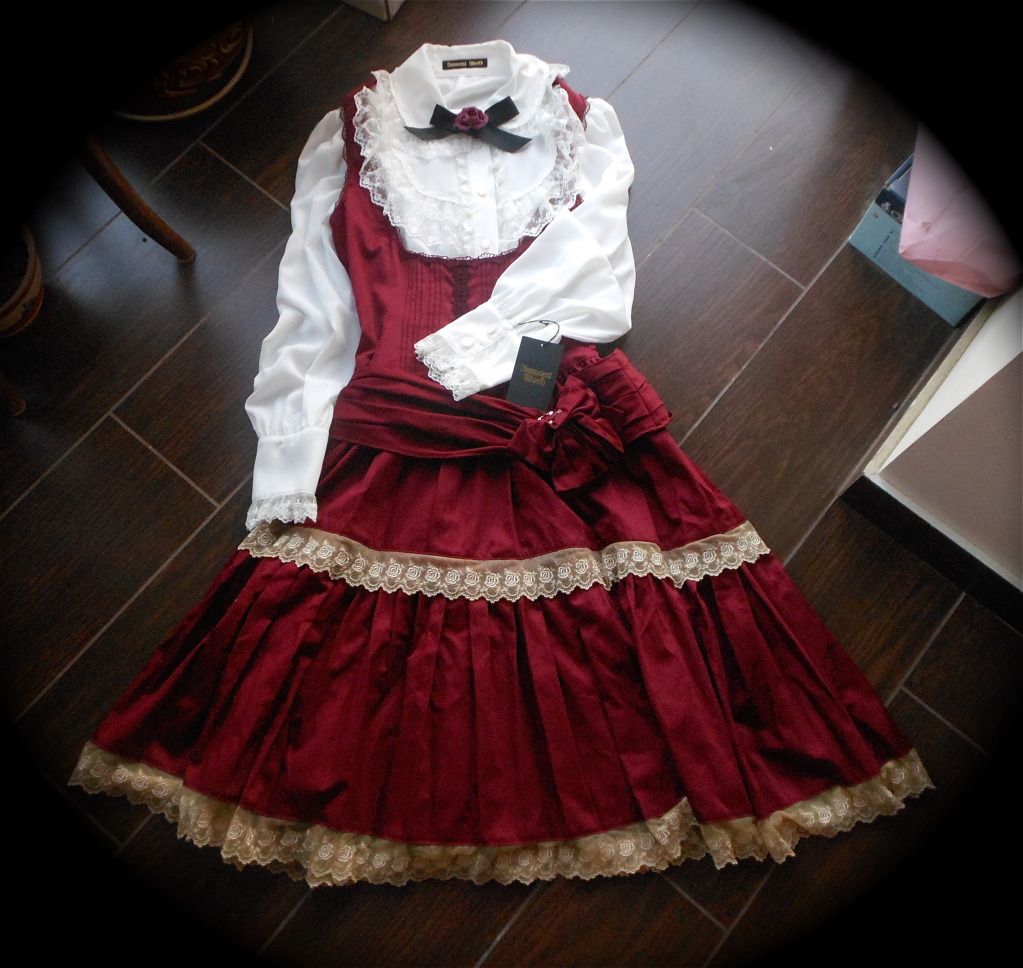 More Photos:
STOCK PHOTO
Back of the dress
Lace details
Tag
Close picture of the First coordinate
The Second coordinate or the photo without waist tie
I purchased it from Mbok auction about a month or a month and a half ago in absolutely new condition with tags. I've only tried it on and understood that it would never fit my waist...T_T
So, now I decide to sell it. I spent 45000 yen (about 460 EUR) for purchasing the jsk (it's very rare in this beautiful colourway) and I want to return my money back, but FEEL FREE to make me a reasonable offer. Also PAYMENT PLANS ARE WELCOME: it's normal to pay me in parts, but with first 20% non refundable deposit. I accept it every time, but maximum for a month and a half. I think it'll be easier for lots of girls who want to purchase this AMAZING piece!
Mesuarements:
100cm + 5cm (lace) length, 88cm bust, 68cm waist
430 EUR SHIPPED INTERNATIONAL
2.
Beautiful Innocent World Light Blue JSK with lace.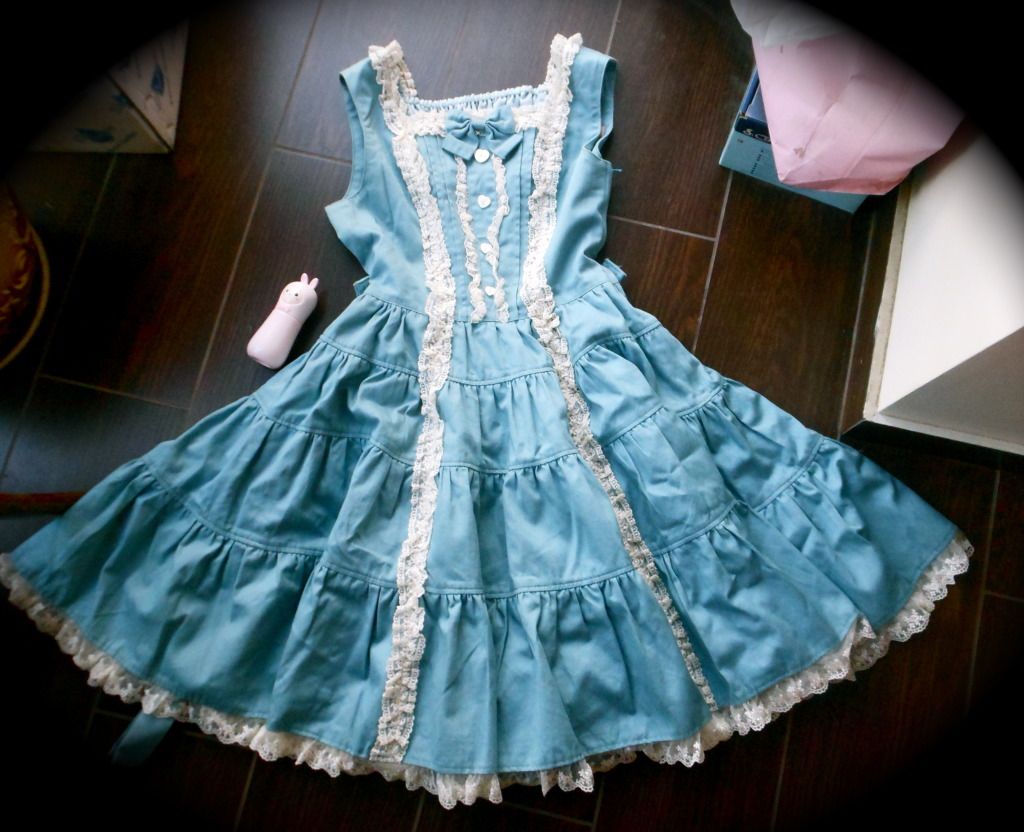 Coordination with Item 6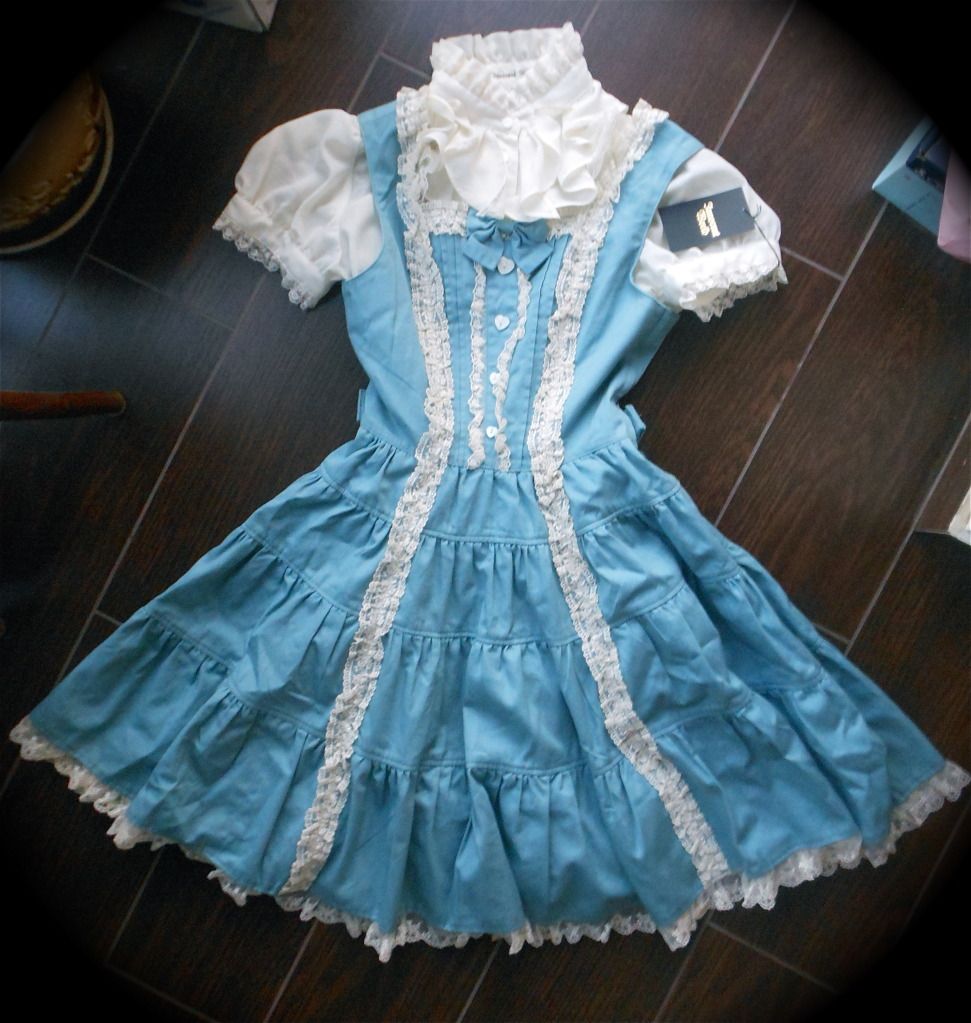 Never been worn. Only tried on. One size fits all.
Bust about 80-97 cm
Waist about 63-80 cm

More photos:
Back of the dress
Tag
Lace details
Close picture of the body
Close picture of the Coordinate

160 EUR SHIPPED INTERNATIONAL

3.
MILKY ANGE OP SET with mini hat and necklace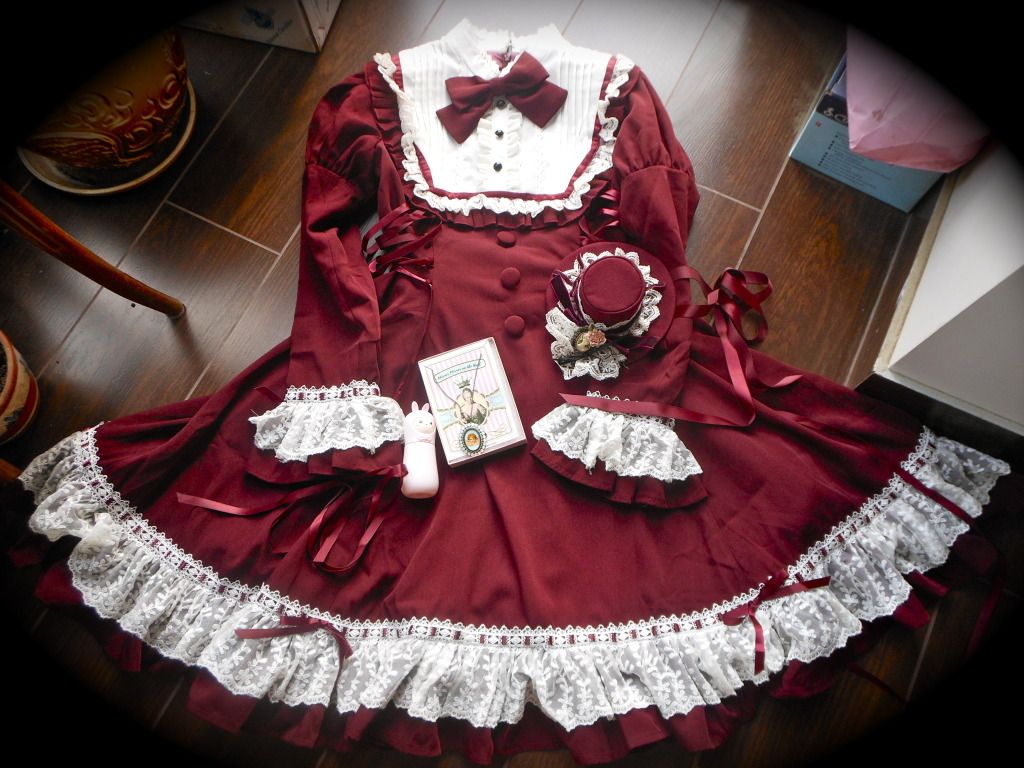 I never worn this OP. Very beautiful and high quality dress! Rich and Elegant colour! Looks very similiar to famous VM Classical Doll dresses and MM St. Clair dress, but will fit a girl with bigger size! This mesuarements are the maximum from official web site. Can be smaller by corset lacing.
Bust
96cm
Waist
80cm
Shoulder width
36cm
Around the nape of the neck
40cm
Around the upper arm
30cm
Sleeve length
64cm
Total Length
95cm
More photos:
Tag
Collar and the hat
Details of Lace
Necklace

265 EUR SHIPPED INTERNATIONAL

------------------------------------

All of the blouses are in L size, but the IW "L" mesuarements aren't true. Will fit 91-96 cm bust and 69-76 cm waist.
4
.
Innocent World Light Blue Blouse with lace and bow.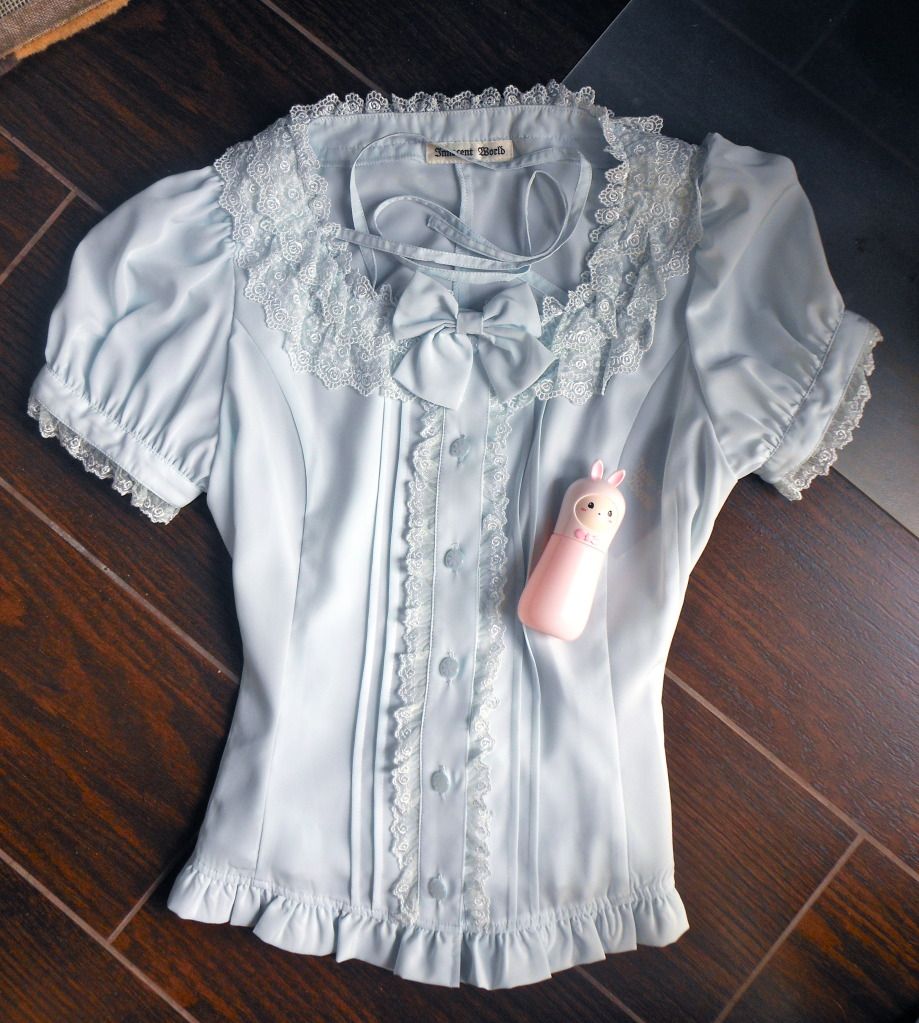 In new condition. Still with tags.
150 EUR SHIPPED INTERNATIONAL
5.
Very
Elegant long-sleeved blouse from Innocent World!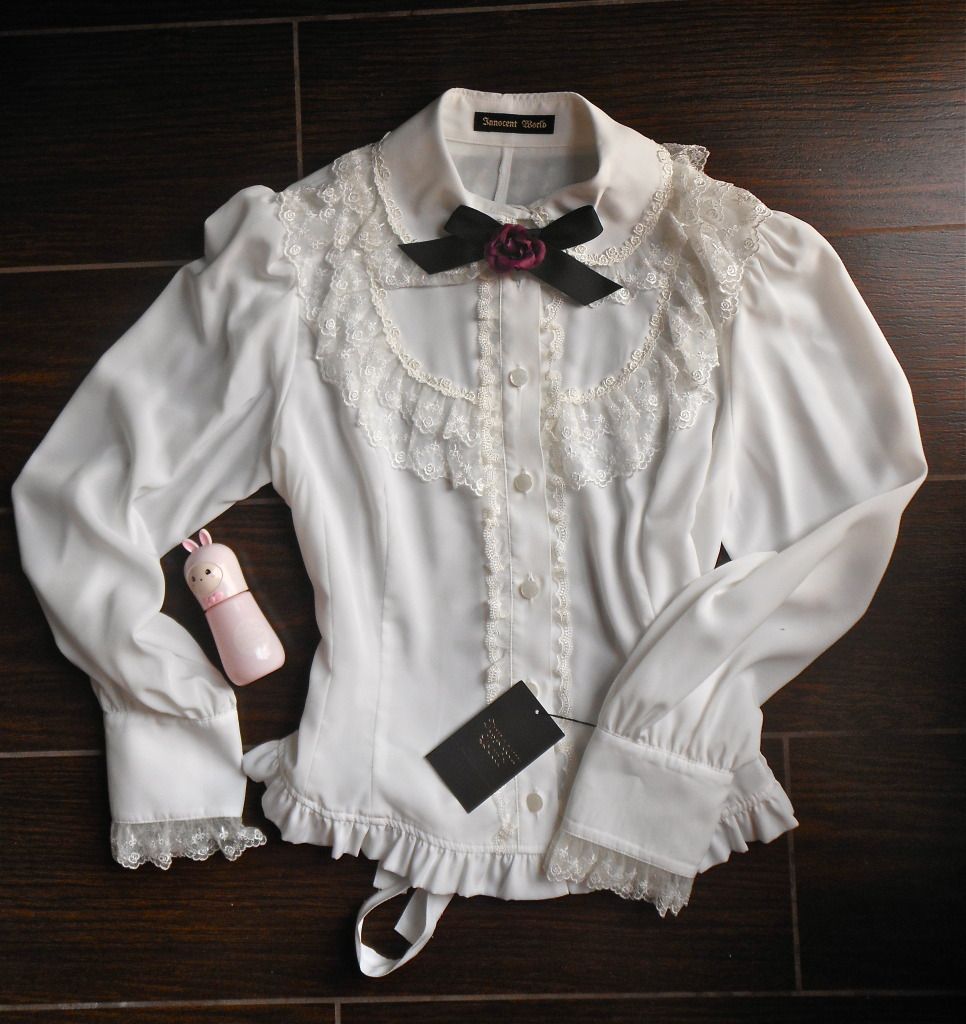 Suitable in different situations! Can be a basic classic blouse! Looks really gorgeous!
New with tags!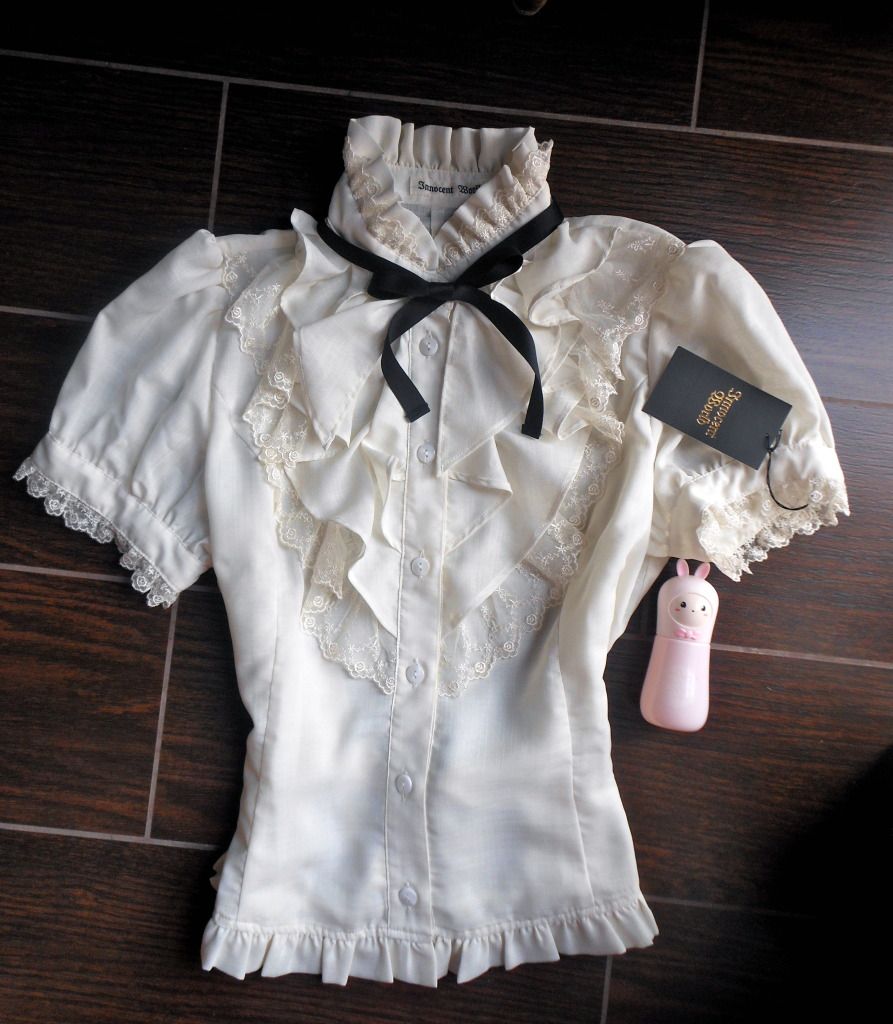 Another Elegant blouse with lace that can be a basic summer blouse. Jabot looks amazing. Bow and a waisttie are detachable.
New with tags!
More photos:
Details of lace and sleeves
Tag and a collar
165 EUR SHIPPED INTERNATIONAL
7.
Lovely Floral print skirt with lace and a waist bow from Innocent World.
Suitable for classic, country and casual lolita style! Soft and bright fabric! 60-75 cm waist, 60 cm lenght New with tags! Looks amazing in coordinates!
Backside of the skirt with the waist tie.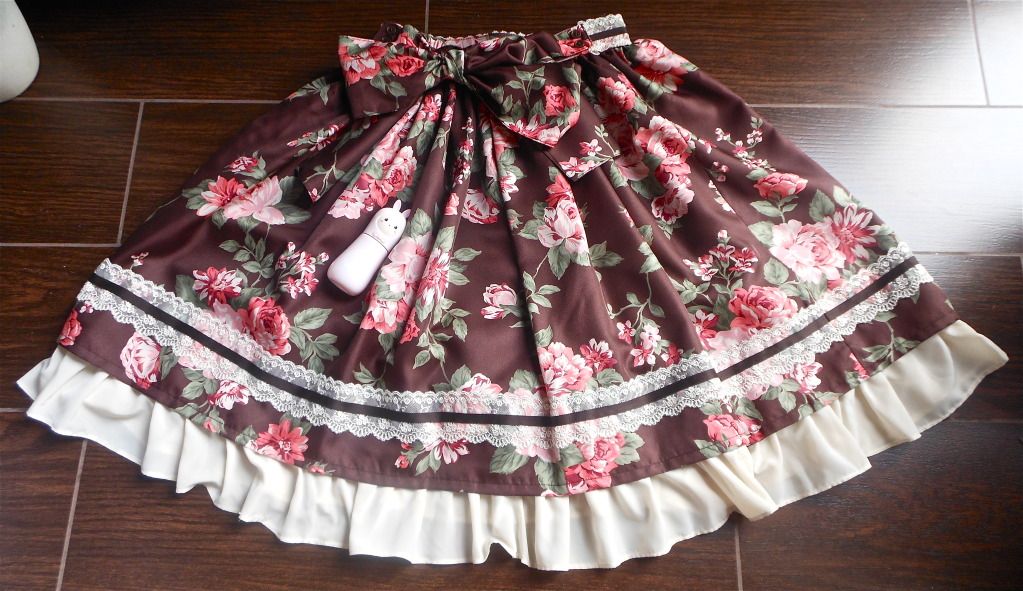 First coordinate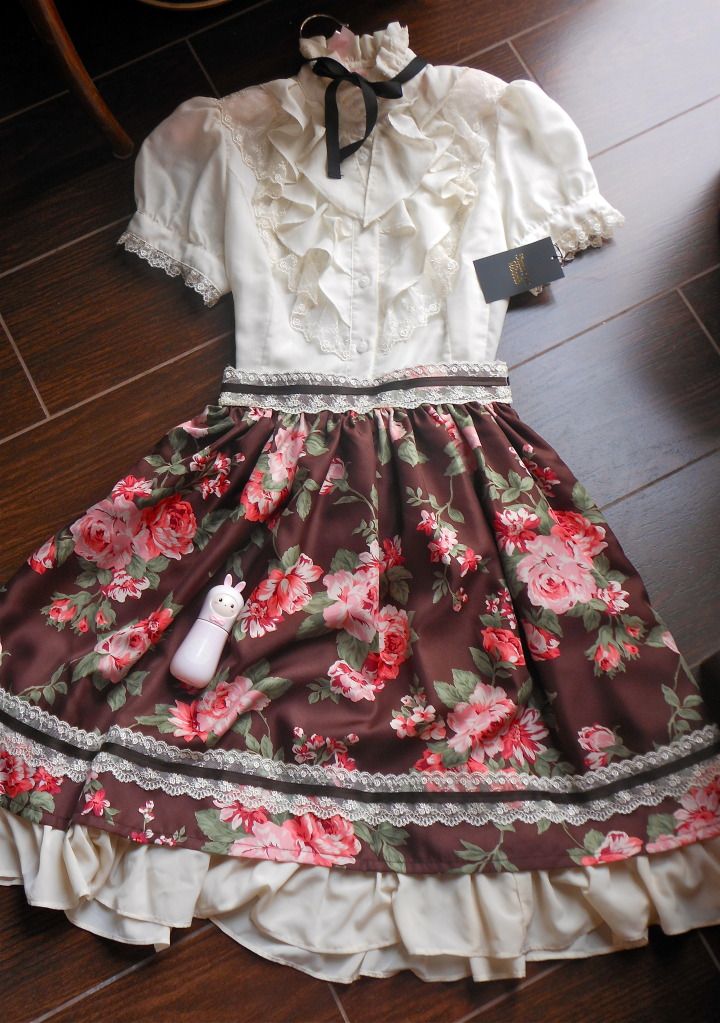 Second Coordinate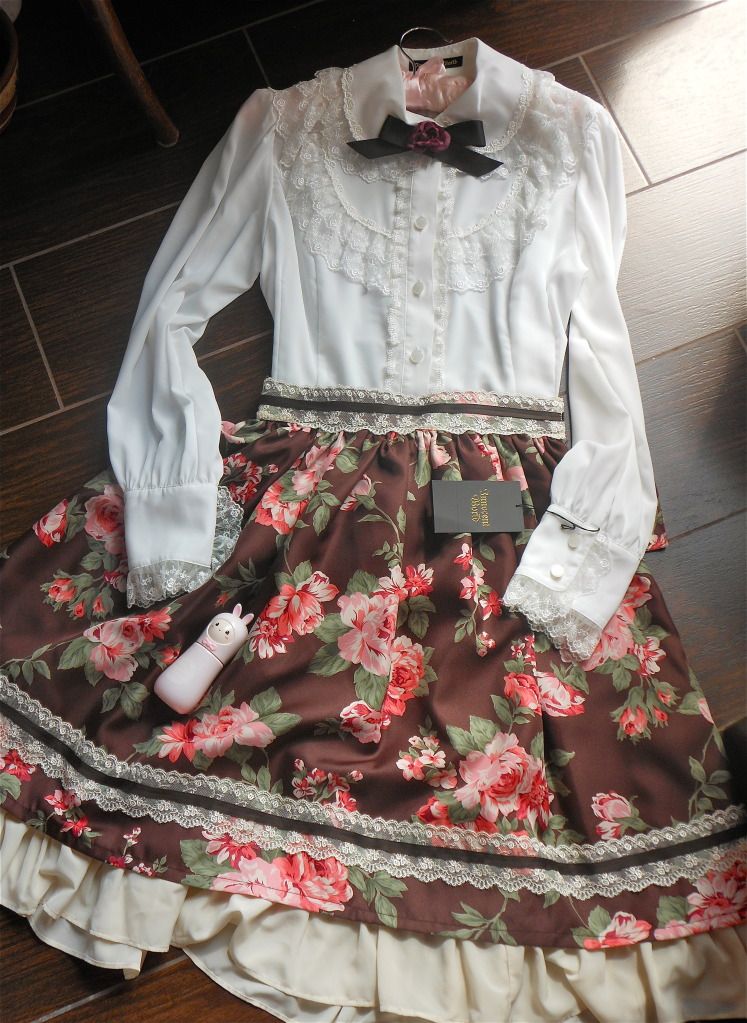 More photos:
Front of the skirt
Lace details
Tag
Print and fabric details
220 EUR SHIPPED INTERNATIONAL
8. KIDSYOYO MAGIC A-LINE PETTICOAT.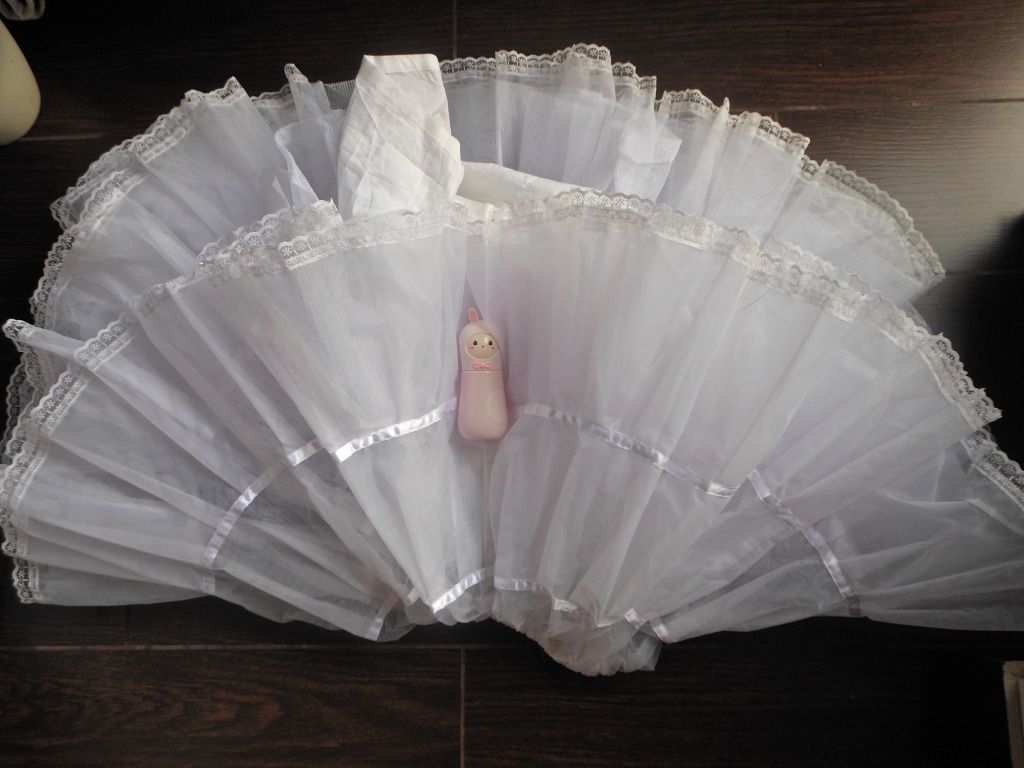 Details of lace
REALLY GORGEOUS PETTICOAT. Lots of layers! I never worn it! VEEERY PUFFY!
70 EUR SHIPPED INTERNATIONAL
8.
VICTORIAN MAIDEN(Beth) Apron.
Like new condition. Worn only once.
Best choice for antique doll coordinate! Also looks pretty in maiden style!
Can be coordinate with IW Rose-lace off white headdress (30 EUR)
70 EUR SHIPPED INTERNATIONALLY
OR 95 SHIPPED WITH IW HEADDRESS
Posted via LiveJournal app for iPad.